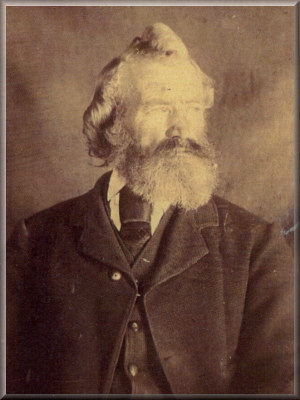 Samuel Dickerson Girt
Location: Possibly in Kansas, circa 1885
Photographer: Unknown but possibly Charles A. Girt
Copy of photograph provided by: Eva Jo Bess 1
Digitally re-mastered by: Michael A. Crane, Jr.
Name:

Samuel Dickerson Girt

Sex:

Male

Birth:

02 Sep 1829 in Butler County, PA, USA 2

Death:

19 Aug 1892 in Rainier, Columbia, OR, USA 3

Note:

Text will go here
Father: Henry Girt b: Abt. 1793
Mother: Elizabeth Dickerson b: Abt. May 1796
Marriage 1 Hannah E. Purdy b: 17 Apr 1839
Married:

17 Nov 1858 in Tionesta, Venango, PA, USA 3
Children:
Charles Allen Girt b: 10 Aug 1859

Wayne Lincoln Girt b: 04 Feb 1861

Angelitta M. Girt b: Abt. 1863

James Elmer Girt b: 15 Jan 1866

Nancy Elizabeth Girt b: 07 Nov 1868

Grant Washington Girt b: 13 May 1871

Rose V. Girt b: 21 Jul 1873

Josephus Riley Girt b: 27 Sep 1875

Bluebelle Grace Girt b: 03 Feb 1878

Edson E. Girt b: 20 Oct 1882

1 This clipped scan of Samuel D. Girt was copied from a single print sheet displaying five Girt family photographs. Print sheet provided by Eva Jo Bess. Copied picture displayed with permission from Eva Jo Bess, owner of the original photograph. This scanned copy of a plain paper print was digitally re-mastered 2005 by Michael A. Crane, Jr. to enhance appearance and design requirements for this web site.
2 Eva Jo Bess is my primary source for this page. girt56@yahoo.com
3 Text will go here