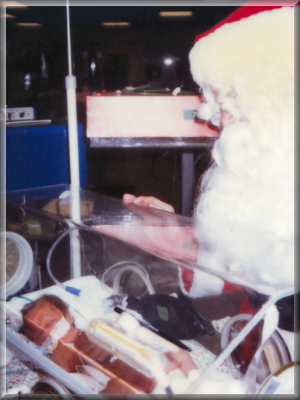 Michael A. Crane, III and Santa Claus
Location: Seattle, King, WA, 25 Dec 1983 1
Photographer: Santa's helper
Digitally re-mastered by: Michael A. Crane, Jr.
Name:

Michael Allen Crane, III

Sex:

Male

Birth:

19 Dec 1983 in Everett, Snohomish, WA, USA 2

Death:

15 Jan 1984 in Seattle, King, WA, USA 3

Burial:

19 Jan 1984 at Cypress Lawn Cemetery, Everett, Snohomish, WA, USA

Note:

Michael was delivered at Everett General Hospital, which is now called, The Providence Everett Medical Center, Colby Campus.
Michael was born with a genetic defect called Myotonic Dystrophy (similar to Muscular Dystrophy) which, it was determined, to their surprise, he had inherited from his mother, Lisa, and his grandfather, Royal C. Hamlin.
Lisa had told me early in our marriage that she had been born premature and had lived her first days in an incubator. Ultimately, Lisa had proven strong enough to survive. Sadly, little Michael's condition at birth was worse than Lisa's had been.
It had been a long night. Lisa's water had broken just after bed time the night before but Michael had not been in a hurry to be born. Also, there had been some concern over the readings the monitors were displaying, anyway, so much for getting any sleep. By this time, Lisa and I were getting used to complications though; she had already had a blood clot in her left leg a few weeks before, and in the last month, her belly had become huge, like as if she was going to have quadruplets, with excess fluids. But finally, at 9:27 AM little Michael Allen Crane, III was born and hope that everything would be okay was high.
I was there in the delivery room and watched little Michael being born. It did not take long to realize that there was a big problem. A "Code Blue" problem. They, the doctor and nurses, could not get little Michael to breath on his own. Shortly, he was rushed to The Children's Orthopedic Hospital in Seattle where he would spend the remainder of his short life in an incubator hooked to a respirator to help him breathe.
The irony is that Michael did not die from his genetic disease, at least not in a direct way. He died from an "overwhelming infection [of E Coli Sepsis] in [the] blood" which led to "congestive heart failure." 4
Michael was so small, about 4 lbs at birth, and weak that it really was no surprise that he did not survive. Still, there is nothing that can compare to the loss of a child. It really is true that a piece of yourself dies with your child. My soul still aches and who knows how different I might be today if Michael Allen Crane, III had lived.
Michael A. Crane, Jr.
18 Jun 2005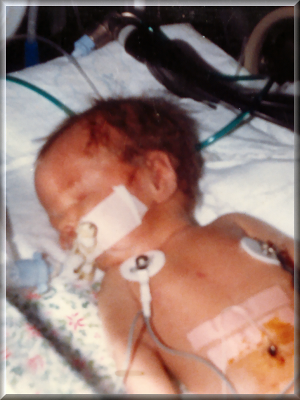 Michael A. Crane, III - Struggling For Life
Location: Children's Hospital, Seattle, King, WA, 1983
Photographer: Dorothy June Crane
Digitally re-mastered by: Michael A. Crane, Jr.

1 A dated Polaroid picture that came with a Christmas gift for Michael.
2 Washington State Department of Health, Certificate of Live Birth. Local File Number: 04275. State File Number: 146-8 [space left blank].
3 Ancestry.com. Washington Death Index, 1940-96 [database online]. Provo, UT: Ancestry.com, 2002. Original data: Index created by: Washington State Department of Health. Microfilmed copy of index obtained from: Washington State Archives.
4 Gross Necropsy Findings. Necropsy signed by Robert R. Coffin, M.D. Necropsy Date: 16 Jan 1984. Necropsy No: A84-007.