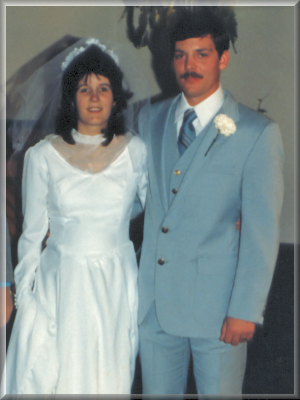 Newlyweds - Lisa A. Hamlin and Michael A. Crane, Jr.
Location: Everett, Snohomish, WA, Sep 1983
Photographer: Dorothy June Crane
Digitally re-mastered by: Michael A. Crane, Jr.
Name:

Lisa Ann Hamlin

Sex:

Female

Birth:

13 Nov 1961 in Lynwood, Los Angeles, CA, USA 1

Death:

04 Jan 2004 2

Method of Disposition:

Cremation 3

Note:

Lisa reverted back to her maiden name sometime before her death.
Searching for clues I found the unexpected, Lisa Ann Hamlin had died.
It was one of those moments where the word dumbfounded becomes an adequate word to describe how I felt. There was no cause of death listed for Lisa in the database and I could find no obituaries listed in the online archives for the local newspapers. The next day I went to the local vital statistics department and purchased a certified copy of Lisa's death certificate. I was allowed to do this because she had been my wife, and therefore, was still family.
I understood enough of the medical terminology on the death certificate to grasp most of what happened to Lisa, a friendly nurse helped me clarify some of the Latin I was not sure about. I had understood about the blood clot in the left leg because Lisa had that same problem a few months after we were married and had spent several days in the hospital because of it. But, this time, the blood clot had jogged loose and went to her lungs before Lisa could get to a hospital. This time, the blood clot that formed in Lisa's left leg ended up killing her.
I wrote the following poem for Lisa, within an hour of finding that she had died.
A sad goodbye
Dear Lisa,
I didn't know you had died
Nor do I know what happened
But I will search for answers
And find where you lie
To pay my last respects
I am sorry I was not a good husband to you
Please forgive me for those bad times
I hope you are at peace now
Please hold our children close
Now that you can be with them
I miss them so
And now I realize
I miss you too
Love,
Michael A. Crane, Jr.
July 14, 2004
I posted the above poem, "A sad goodbye" within the online database where I found the information about Lisa's death. The poem is identical to the one posted at Ancestry.com.
MACJR
16 Jun 2005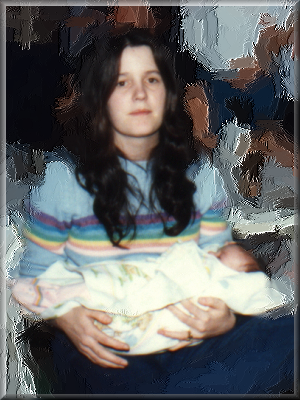 Lisa and daughter, Christy L. Crane
Location: Snohomish County, WA, 1985
Photographer: Dorothy June Crane
Digitally re-mastered by: Michael A. Crane, Jr.

1 Ancestry.com. California Birth Index, 1905-1995 [database online]. Provo, Utah: MyFamily.com, Inc., 2005. Original data: State of California. California Birth Index, 1905-1995. Center for Health Statistics, California Department of Health Services, Sacramento, California.
2 Social Security Administration. Social Security Death Index, Master File. Provo, Utah: MyFamily.com, Inc.
3 Washington State Certificate of Death, Certificate No. LL00465187, Certified JUL. 15, 2004.
4 State of Washington Certificate of Marriage, Certificate No. 129431.
5 Washington State Digital Archives, www.digitalarchives.wa.gov.